Not sure what to wear for your newborn session? I'm here to help!
One of the greatest lessons I've learned as a mom is to keep things simple, and not overthink things.
It can feel like an overwhelming task. You probably aren't sleeping well, laundry is piling up, your shape has and is changing in drastic ways. Not only do you not have time to shop, you don't want to. You thought you had the perfect outfit for the baby, then they spit up on everything in sight.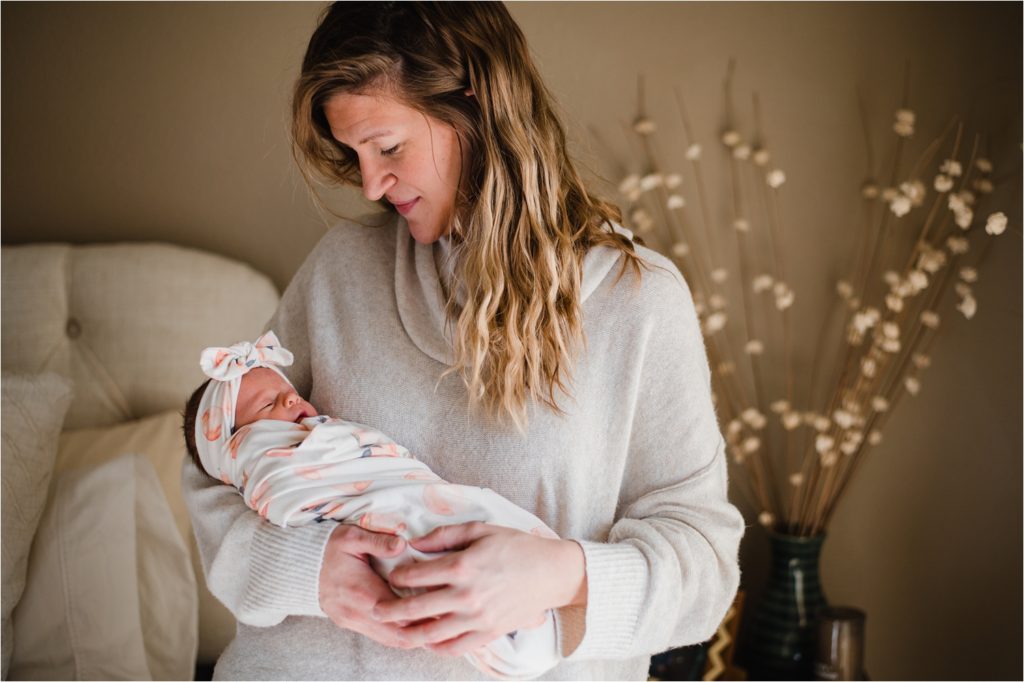 Don't panic.
As you can probably see from the newborn sessions that I've blogged, there isn't a "one size fits all" answer to "what to wear for a newborn session". It depends on the colors in your home, your family's style, as well as how much you want to coordinate - both with each other as well as the colors in your home and/or nursery. I don't have strong feelings in either direction, and it really is up to each family to decide where they want to go with their clothing choices.
That said, there are some suggestions I'd like to pass along!
Colors
Neutral (beige, cream, white, gray, brown) or muted/pastels tend to
photograph best during newborn sessions. They're also relatively easy to
incorporate into multiple rooms, especially if you've chosen a different
color for the nursery than in other areas.
Dark colors work too, especially on dads. It lends itself to a moodier look, but as you can clearly see, that isn't something I'm against!
If your nursery is a different color palette than the rest of your house, don't stress! You're always more than welcome to plan for more than one outfit (although I would try to keep older children/siblings in one outfit for the entire session).
COMFORT.
Above all else, choose an outfit you're comfortable in! Even with the most cooperative baby, it does take up to an hour or two to get through a newborn session. Rock those maternity jeans/leggings, and a comfortable top, or find a flowy dress you can move in (avoid anything that wants to accentuate your belly, as maternity dresses have a tendency to do).
Can you bend over/sit down/hold a baby without too many adjustments? This goes for dads and siblings too! It can be a challenge to get everyone in the right position for a family photo, and it's helpful if we can avoid having to adjust big sister's tights/hairbow or big brother's suspenders/tie his shoes.
Lose the shoes!
Unless you've requested a photo that involves your feet (or your slippers coordinate with your baby's eyes like in the photo below), I won't be photographing your feet. I don't usually photograph below the waist in newborn shoots, unless everyone happens to be seated.
Socks, bare feet, slippers, or house shoes - whatever you feel comfortable in is the best choice for your feet!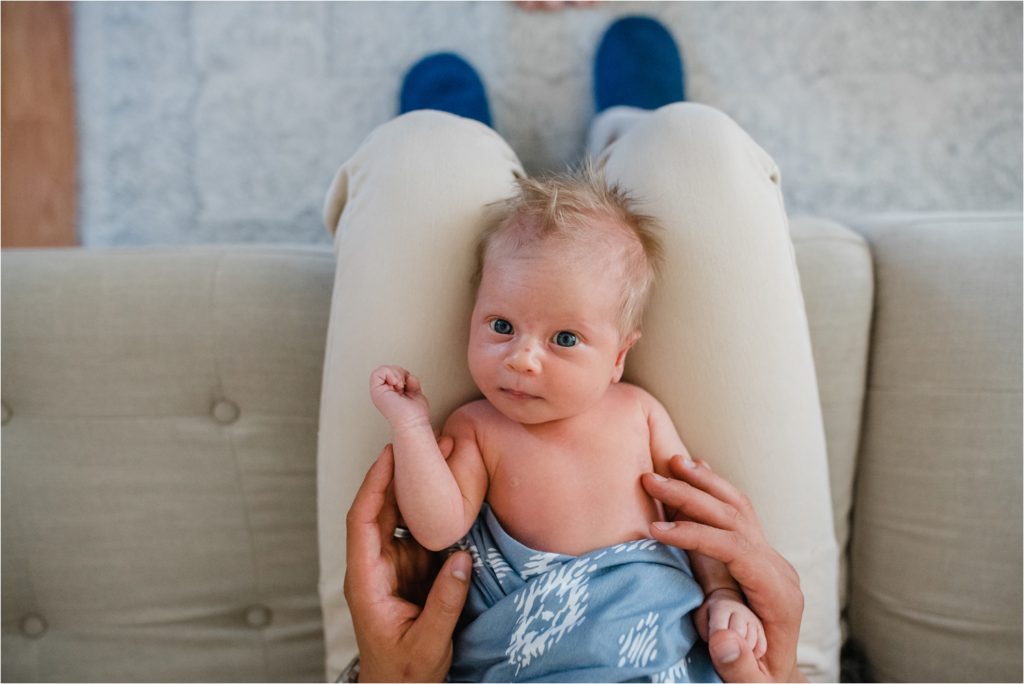 Sibling...Revelry?
As I stressed above, go with simple and comfortable!! If you have more than just baby, odds are very good that your other child(ren) are going to have a hard time focusing for a newborn session. Make it as stress-free on them (and you!) as possible by choosing a familiar outfit that is both comfortable and doesn't need a ton of adjustments.
All About Baby
It can be hard to find outfits that will fit a newborn "properly" in the first few weeks, which is why I usually suggest sticking with a onesie or just a diaper, and adding color/texture with blankets and swaddles.
If you happen to have a cotton diaper cover (like the ones sold under baby dresses), that can also be a great addition! Helps avoid the Big Blue Line situation that happens approximately every 90 seconds with a newborn. I'm hoping to add neutral covers to my blanket and swaddle collection this year, so feel free to ask/remind me if that's something you would like to see!
If you do have an outfit you would like to use though, please don't hesitate to ask! It's easy to change a baby - they don't complain much more than they would have anyway - and I always enjoy doing multiple "looks" for baby at each session.
Headbands and bows are also welcome, but do note that they can leave a forehead mark! Sometimes those are best left for the end of the session.
---
Suggested Pairings
I've put together some outfit ideas over on Pinterest! (Note: these aren't my photos)
---
I know it's not an extensive guide, but hopefully this helped! If you have any questions at all, you can either contact me through my Contact page, or if you're an existing client, feel free to email or text me! I'm always happy to look at photos of outfits prior to the session.
---
This is the next to last post in my Newborn Session Info series! If you'd like to look at more of the posts in the series, click HERE. If you have questions and are curious about a newborn session, head to my Newborn Session page for more information!