Not sure what to wear for your newborn session? I'm here to help!
One of the greatest lessons I've learned as a mom is to keep things simple, and not overthink things.
It can feel like an overwhelming task. You probably aren't sleeping well, laundry is piling up, your shape has and is changing in drastic ways. Not only do you not have time to shop, you don't want to. You thought you had the perfect outfit for the baby, then they spit up on everything in sight.
Don't panic.
There isn't a "one size fits all" answer to "what to wear for a newborn session". It depends on the colors in your home, your family's style, as well as how much you want to coordinate - both with each other as well as the colors in your home and/or nursery. I don't have strong feelings in either direction, and it really is up to each family to decide where they want to go with their clothing choices.
That said, after being a newborn photographer for eight years now, there are some suggestions I'd like to pass along!
Colors
Neutral (think beige, cream, white, gray, brown) or muted/pastels tend to photograph best during newborn sessions. They're also relatively easy to incorporate into multiple rooms during your session, if you choose to do so. They tend to be timeless colors, and are usually the most flattering option for skin (both yours and your baby's!).
If your nursery is a different color palette than the rest of your house, don't stress! You're always more than welcome to plan for more than one outfit (although I would try to keep older children/siblings in one outfit for the entire session).
Choose A Comfortable Outfit
Above all else, choose an outfit you're comfortable in! Even with the most cooperative baby, it does take up to an hour or two to get through a newborn session. Rock those maternity jeans/leggings, and a comfortable top, or find a flowy dress you can move in (avoid anything that wants to accentuate your belly, as maternity dresses have a tendency to do). I would also avoid too many layers, as they might add bulk. Exception: maternity tank with sweater/top. When I had my first baby, I didn't realize that I would still look pregnant for a bit, and I found it much more comfortable to stick with leggings and oversized sweaters.
Can you bend over/sit down/hold a baby without too many adjustments? This goes for dads and siblings too! It can be a challenge to get everyone in the right position for a family photo, and it's helpful if we can avoid having to adjust big sister's tights/hairbow or big brother's suspenders/tie his shoes.
What to Wear for Moms
I'm all about comfy maternity jeans or leggings and an oversized top. I don't typically photograph you below your waist unless you're sitting, so don't spend much time thinking about what you're wearing on your lower half. There's a good chance you'll need to take a break to nurse/feed the baby, so you'll want something you can stand and sit in without too many wrinkles.
That first few weeks is exhausting. It's going to feel like you're changing shape with every passing day, and at least for me post-C section, my belly took a lot longer than I expected to go back down (the joys of surgery!). Find something stretchy that can adjust to bloating and is comfortable when you sit down.
If you're looking to treat yourself, find neutral colored leggings, then splurge on a comfy oversized top that you can wear for the next few months. Layer that over a maternity or nursing tank, and you're good to go!
What to Wear for Men
Just like mom , be comfortable! Although I know for dads, that can be anywhere from a t-shirt to a polo to a button down shirt. As long as it doesn't wrinkle easily, and you can move around in it, go for it!

Avoid logos, when possible. UW grad? Sure! Bust out that polo with Steam boat. Company logo? Eh…maybe find something else if you can.
Don't worry about shoes!
Unless you've requested a photo that involves your feet (or your slippers coordinate with your baby's eyes like in the photo below), I won't be photographing your feet in shoes. If we need to have feet in photos for a "everyone piled on the bed" photo, I'll have everyone go bare foot. Don't panic about the state of your feet either! They'll be out of focus or tucked under a kid, I promise.
Otherwise: socks, bare feet, slippers, or house shoes - whatever you feel comfortable in is the best choice for your feet!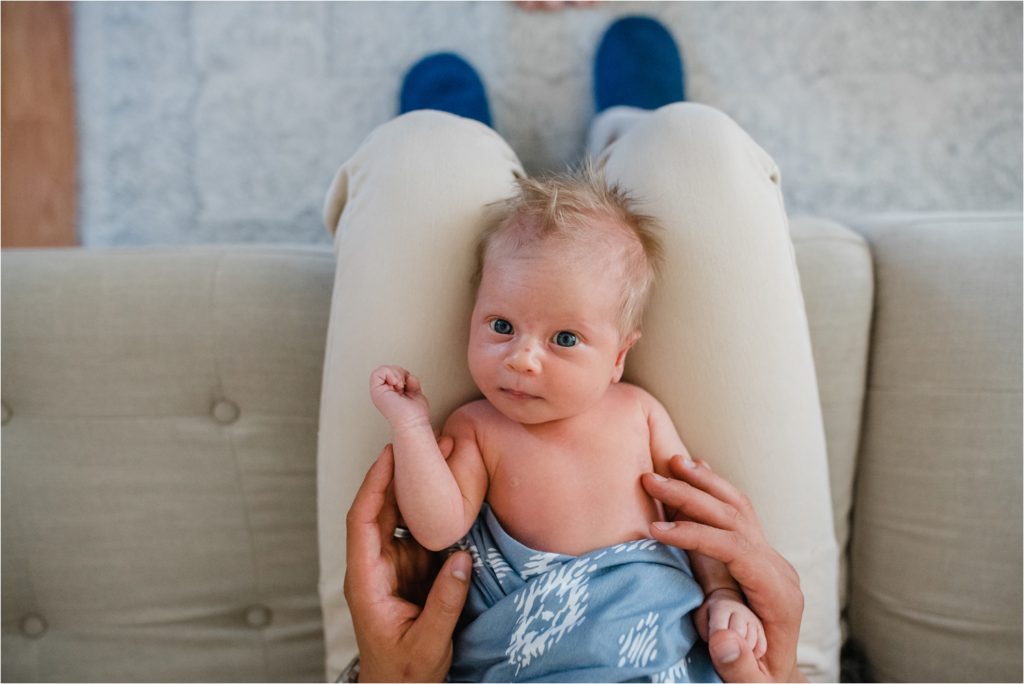 Sibling Outfits
Simple and comfortable!! I can't stress this enough. It's going to be hard enough to get everyone focused for this session, so you aren't going to want another child with accessories that need adjusted or shoes that need put on.
Sibling photos with toddlers are…a challenge. We may only have one shot, and it may be a few seconds. Try to avoid outfits that will need tweaks and adjustments to look right.
Outfits that seem like "everyday" outfits are less likely to cause them to be rejected by the under 5 crowd. If you pull out a frilly dress, they may realize they have some power in this situation and will choose this moment
to have a very strong opinion. Don't start your day with a fight!
Baby Outfits
It can be hard to find outfits that will fit a newborn "properly" in the first few weeks, which is why I usually suggest sticking with a onesie or just a diaper, and adding color/texture with blankets and swaddles.
White onesies (both short and long sleeved) are a classic look, and any solid colored onesies almost always work with what the family is wearing.
If you're wanting photos of tiny feet and hands, make sure to choose outfits don't cover them up.
I do have families that choose more complicated outfits, and they're beautiful! But remember - we'll need to do more adjusting of straps, ruffles, and diapers. We will also need to strip the baby down for any swaddled photos, which can quickly take a settled baby to an unhappy one!
Headbands and bows are also welcome, but do note that they can leave a forehead mark. Sometimes those are best left for the end of the session.
---
You can find more information about my newborn sessions at this link.