Why Am I The Family Photographer For You?
Experienced Photographer.
My number one goal is to make sure everyone has a great experience during their family photo session. My favorite repeat clients are the ones who told me "my family hates having their photo taken" during booking, but are suddenly on my calendar year after year.
I will let quiet kids be quiet, rowdy kids be rowdy. I promise - we'll get there! But do. not. stress. We'll run, we'll jump, we'll walk, we'll adventure.
I know how hard you had to work to make your session a reality - the clothes, the schedule, all of it. I understand that maybe your 3 year old is just having a bad day, and nothing will snap them out of it.
I also know the love you have for this messy bunch of yours, and why it's important that you're in the photo. So trust that I'll be there for you, on your side, ready for anything life might throw at us!
I've been a full-time professional family photographer since 2016. I have a strong foundation of photography skills, which means more brain space to dedicate to the things that matter (like talking to your 3 year old about their favorite book).
Includes a 30 minute session, as well as all the final digital files from your session in an online gallery. Limited to locations in Cheyenne, WY.
Session locations typically include Lions Park, Cheyenne Botanic Gardens, High Plains Arboretum, State Capitol Building and downtown Cheyenne.
For immediate family only.
Includes up to a 60 minute session, as well as all the final digital files from your session in an online gallery. Also includes travel up to 50 miles from Cheyenne.
Book this package if you're planning on a mountain family session! Locations include Vedauwoo, Curt Gowdy State Park, Red Mountain Open Space, Fort Collins, Happy Jack Recreation Area.
For immediate family only.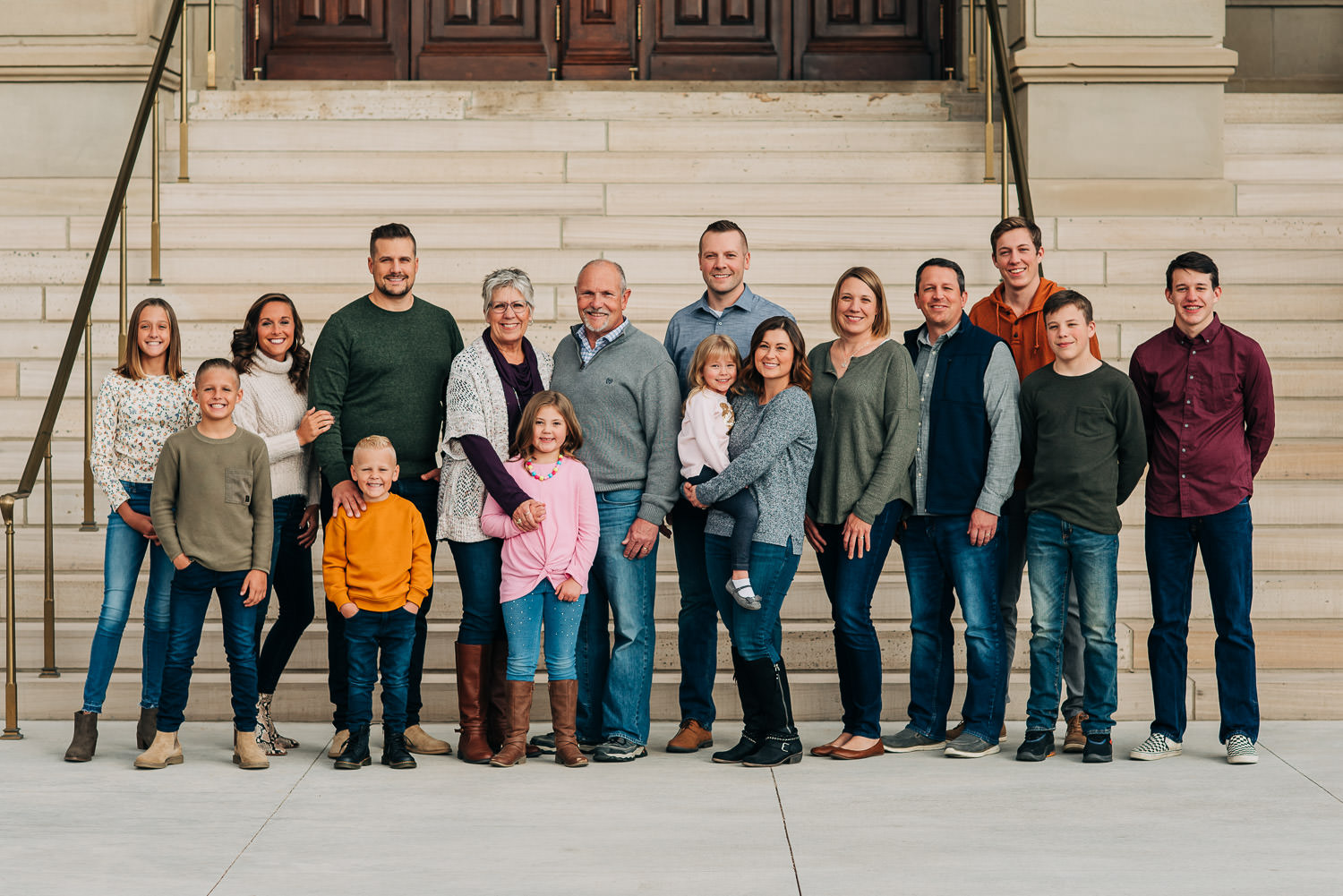 Extended Family Sessions include photos of your entire family, as well as an abbreviated Petite Session for each family involved.
Included in your extended family session is additional planning. I will get in touch prior to your extended family session to help you put together a list of family groupings. If you'd like to see a sample list, let me know once you've booked and I'll pass one along!
Since extended family sessions run anywhere from 5 people to 20+, I only offer custom quotes for these sessions. I am available to travel as far as Longmont, CO, or Laramie, WY, for extended family sessions. Extended family sessions start at $499.
Looking for a quick 15 minute update for the yearly holiday card? Only need one photo of your whole family for the wall?
Sessions will include a limited number of files. To be the first to know about mini session dates and scheduling, sign up for my newsletter below!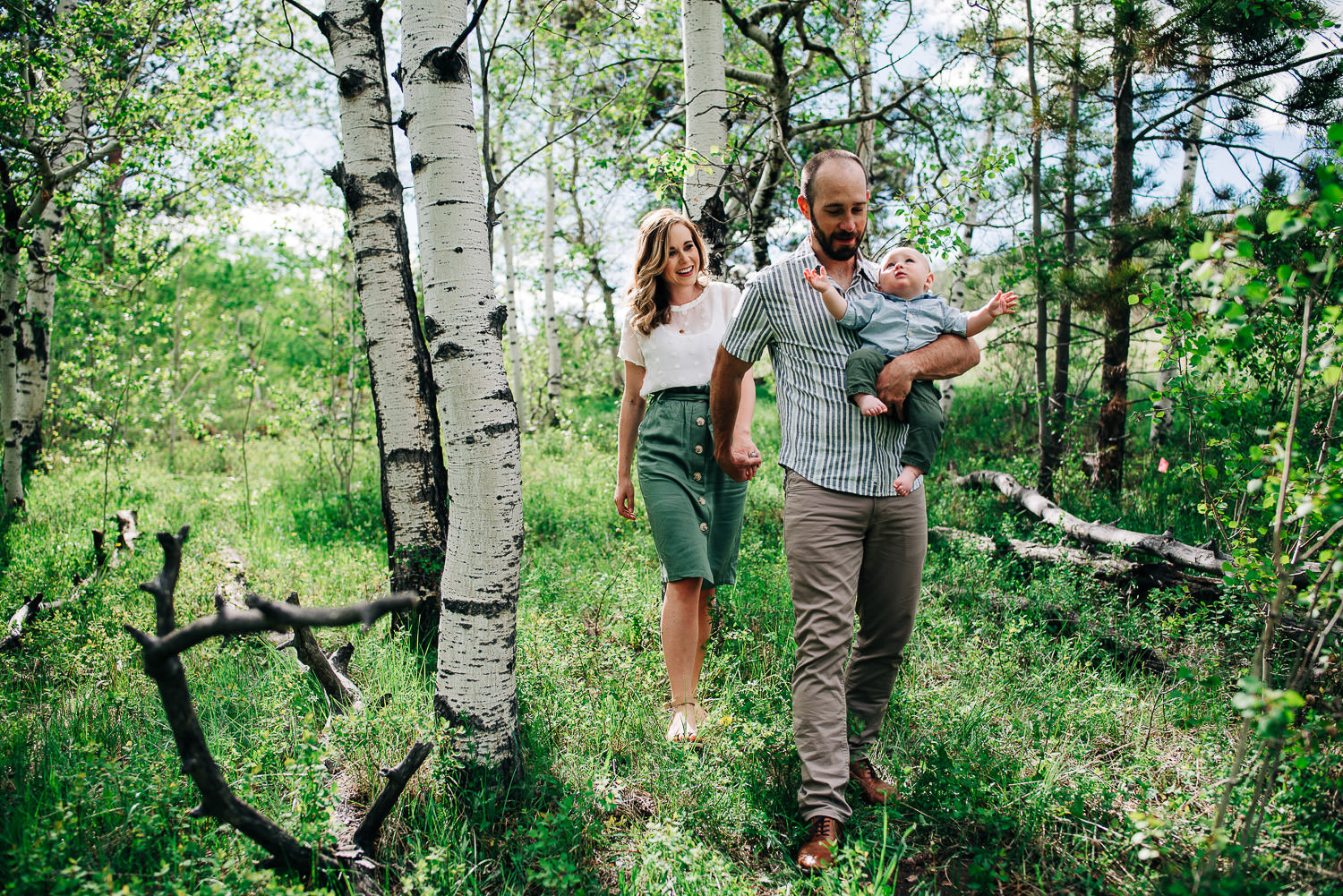 As you hopefully figured out by now, I'm Liz! Mom of three daughters, snuggler of two reluctant cats, and emotional support human for an extremely anxious Border Collie/Heeler. We've made Cheyenne, WY, our home since 2015, and have been in Wyoming almost twenty(!) years.
You'll find me outdoors absolutely any chance I can get - gardening, running, knitting, skiing, swimming.
When should we schedule our family photography session?
Most of my family clients start booking their family sessions in March for the upcoming year, although I do have clients that will get on my schedule in November or December of the previous year! If you are planning on a fall session, I would recommend getting in touch by mid-July. If you are a teacher and are hoping for those chaotic first two weeks of August, right before you go back to work, I would recommend scheduling your session by June.
What is the best time of day for our family photo session?
During the summer, I suggest booking a session for 1-1.5 hours before sunset for the best light. I know that doesn't always work the best for bedtimes for tiny people, so please reach out if you need a session outside the times available! I would much rather have a happy baby than perfect light.
By fall, the light is gentle enough that mornings and late afternoon are all beautiful times for family sessions.
Winter light is more forgiving, and I am happy to shoot at most points during the day. Weather (*wind* cough, cough) tends to be the determining factor for timing on winter shoots. Starting in late October through January, most of my sessions are in the morning.
If you have any questions on when the best time of day might be, feel free to get in touch and ask!
When is peak fall color for family photos?
I can only say that these are general guidelines, so don't get angry if it doesn't work out! We've had years with a snow and/or cold snaps in September and early October, which meant a quick end to fall color.
Cheyenne: second week of October through end of October
Curt Gowdy State Park: end of September through first week of October
Summit/Medicine Bow National Forest: mid September through Oct 1
Fort Collins: mid to late October
When is peak blossoms for spring family photos?
Spring blossoms usually start around mid-May in Cheyenne, and if it doesn't snow or freeze, they will last until right before Memorial Day. That said: do not set your heart on spring blossoms, as late snow/freezes can wipe them out in an evening.
What does the session fee include?
My session fees are all-inclusive, and include the time for your session, custom processing, all the final digital images from your session, and an online gallery. USBs are available, upon request, for an additional fee.
Do you photograph extended family sessions?
Extended family sessions are those that include more than one nuclear family - grandparents, aunts, uncles, cousins. I only provide custom quotes for extended family sessions, as they can range anywhere from six people to 20+ people. Note that I get a TON of requests for these over Thanksgiving and Christmas breaks, and only take on (maybe) one session per break. So get in touch early!
Do you work year round as a family photographer?
I'm available for most of the year, but the bulk of my summer and fall is spent photographing weddings. If you have your heart set on a weekend, get in touch as soon as you can!
I don't typically schedule sessions over Thanksgiving or Christmas break (other than an occasional extended family session as mentioned above), but you're always welcome to get in touch and ask!
Do you have a studio?
I do not have a studio, but I do offer in-home family photography sessions! I have several years of experience photographing weddings and newborns, so being an in-home family photographer is second nature.
Where should we go for our family session?
I'll help you figure that out! My favorite family photography session locations include the Cheyenne Botanic Gardens, Lions Park, Curt Gowdy State Park, Vedauwoo, the Wyoming State Capitol building, Happy Jack Recreation Area, Red Mountain Open Space, the Medicine Bow National Forest, and the natural areas in and around Fort Collins. I also love sessions at clients' homes, both inside and out!
What should we wear for our session?
As a family photographer, this is one of the most common questions I get from clients, so I've put together an in-depth post dedicated to "What To Wear For Your Family Session".
Coordinated outfits do tend to give the most "cohesive" look in photos, but I much prefer happy families over matching outfits! If you do want to coordinate, start with the person who has the strongest opinion about their outfit and go from there.
PLEASE PLEASE PLEASE dress for the weather! It will be obvious in your photos if you or your children are cold (not to mention it's miserable for all involved!). I also ask that everyone wear appropriate footwear, especially for mountain sessions. There's a surprising amount of tiny cactus once you leave city limits!
Ready to book? Have questions?