Benefits of

In-Home Newborn Photography
If there is one truth in life, it is that newborns are going to....be newborns. Sleepy one day, cluster feeding the next. Always asleep from 7-9 am, and suddenly awake since 4 am.
By having your newborn photography session at home, we're on a baby led schedule. If I arrive for your session and you still need to do your makeup? Absolutely fine! I'll play blocks with your toddler and chat with your spouse. Baby blows out their diaper and ruins their outfit? It's okay, because you have an entire dresser of new clothes!
I know that when I had my babies, it was a chore to get out of the house more than necessary in those first few weeks. Extra clothes, diapers, bottles, carseat, blankets...not to mention the items for my older child and/or postpartum self!
You have everything you need at home. No worrying that you didn't bring enough diapers, or that you aren't sure how to nurse in public yet. Your older child having a hangry moment twenty minutes in our session? Grab their favorite snack from the cupboard and put a show on the iPad for a quick reset.
Your home turns upside down when the baby arrives. Suddenly there are burp rags everywhere, you have diapers on the coffeetable, and using the bathroom is a ten step process.
An in-home newborn photography session takes a lot of the unknown away. Your oldest has their comfort items. You have a cupboard full of snacks, and a coffeepot full of the coffee you like. Your spouse can escape to the basement to take a work call.
Okay, so this one needs some explanation. I am not going to show the mountain of Amazon boxes by the front door, or the pile of thank you cards you've been trying to get through since your baby shower. I'm not going to photograph your two year old crying about the color of their bowl being "wrong".
What I will photograph during your newborn session: your family snuggling on the couch you got when you bought your first Real House. The nursery that you spent hours in while pregnant, picking out the perfect artwork. The care and love with which your 8 year old holds their new baby sister.
I tend to attract a lot of dog clients, which means I have a lot of dogs at newborn sessions. Does this mean you HAVE to include your overexcited lab? Nope! But does this mean you can let your goldendoodle look through the crib slats at their future BFF? Of course! I will include pets as much or as little as you want during a newborn photography session.
I'm a newborn photographer, based in Cheyenne, WY, since 2016. Hard to believe this, but we've lived in Wyoming almost 20 years!
As you can see in the photo (circa 2013), I'm mom of three girls, including a set of twins. Literally NOTHING can surprise me at this point! Crazy toddlers, jumpy dogs, cranky newborns...I've been through it all, I swear.
I'm laid-back, organized (at least for my clients!), and somehow grew up to be an introvert with excellent small talk skills. I have a background in engineering, wildland fire, and wedding photography, so I promise I have no shortage of stories to entertain you with!
Why did you become a newborn photographer?
Looking back at my own kids' newborn photos, I'm not just looking at their perfect little lashes. I'm reminiscing about that blanket they loved, where we lived, the pets we had. Their photos don't just show their perfect little fingers and toes, but also the life we had and the people who were a part of it.
Lifestyle newborn photography focuses on the connections you and your family have with your new baby. Laid back and in the comfort of your own home. You'll receive images that not only tell your story in a real and meaningful way, but are also beautiful enough to hang on your wall.
I will send a sneak peek gallery and slideshow within 3 business days of your newborn session. You will receive full sized images, and will be able to share these with family and friends!
Your full online gallery will be available within two weeks of your session. This gallery will include ALL your final digital images, along with your slideshow, at no additional cost.
To hold a space on my newborn calendar, I require a signed contract as well as a $50 deposit. Best part? Both can be handled online!
Once the baby arrives and you are back at home, you can either send me an email or text me on my personal cell. At that point, I will give you a list of mornings to choose from for your session!
Note: I schedule most of my newborn sessions for weekday mornings. I am able to make exceptions for school/work schedule conflicts (let me know this when you book), but it may take a bit longer to get on my schedule.
You can inquire about availability by heading to my Contact page, or by clicking the button below. Typical response time is 24 hours, unless I'm at a wedding or traveling. I will reply with my availability, as well as a session guide that includes additional info about my newborn and maternity sessions.
All of my newborn photography sessions include photos of baby, family photos, as well as photos of the nursery and decor.
I am based in Cheyenne, WY, but am happy to travel! Depending on distance from Cheyenne, I may need to charge an additional small fee for travel.
You can share your online gallery with all your family and friends, and everyone is welcome to download/print. No limits on downloads, and your gallery doesn't expire.
Wanting to document the entire experience? This discounted package includes both a full newborn session (shown above), and a thirty minute maternity session. Head to my maternity pricing page for more info, or click the button below.
You'll receive your maternity photos within 1-2 weeks of your maternity session, and your newborn photos within 1-2 weeks of your newborn session. Package includes all the final digital files from each session.
To receive discount, both maternity + newborn sessions must be booked at the same time.
30 minute maternity session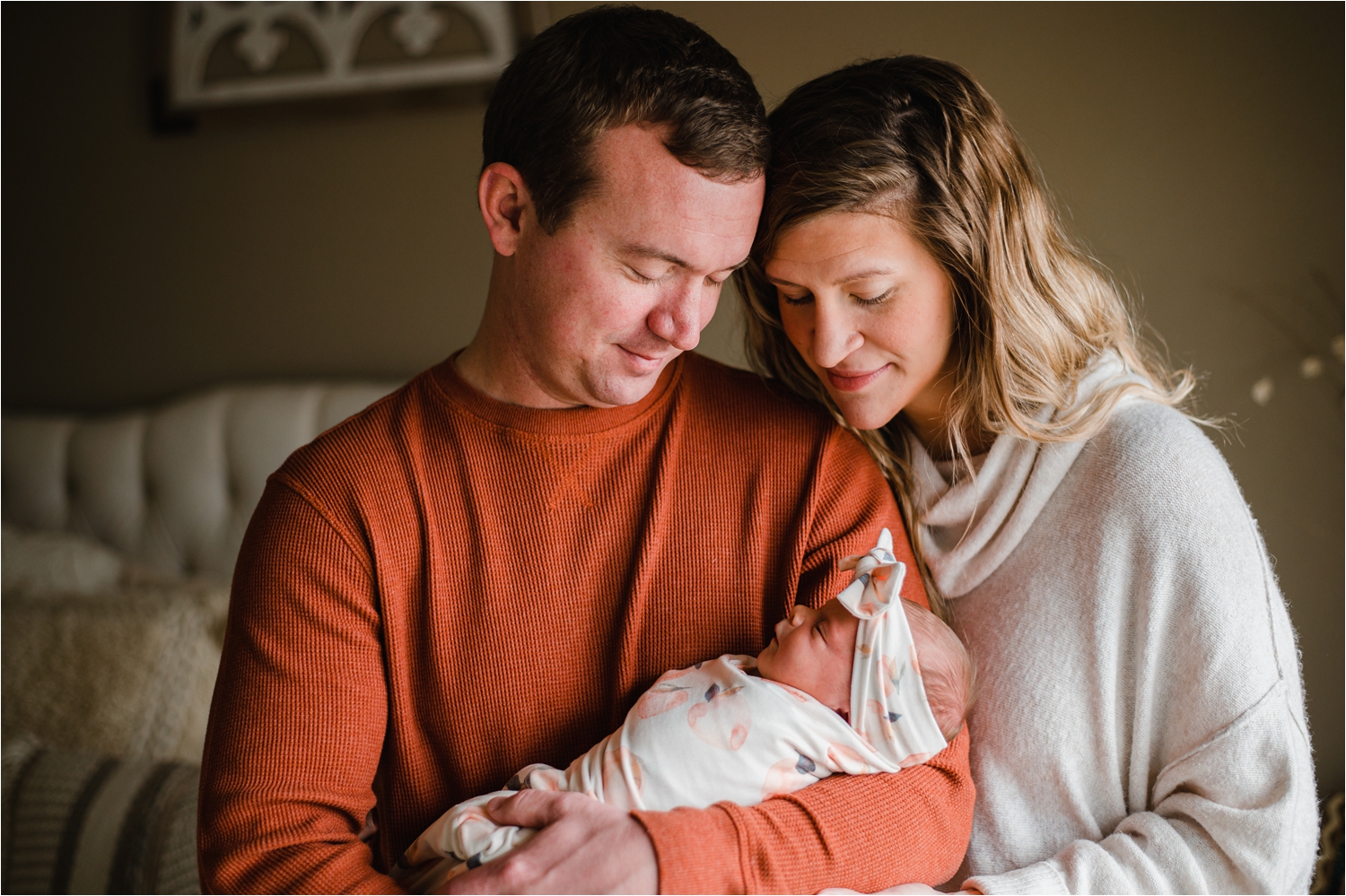 Do you have a studio?
I do not have a studio. All of my newborn photography sessions take place in my clients' homes. If you would prefer a location other than your home, I suggest finding an Airbnb. There are some gorgeous rentals in Cheyenne, and I'm happy to help you find a location with beautiful light.
Do I need to clean my entire house for the photo session?
No!! I typically find the room with the best light, and we'll most likely shoot near a window. As long as there's a place for you to stand, it works for me! If you have a nursery (and want it photographed), we'll make sure to photograph in there too.
More blog posts to the rescue! I have a post dedicated to preparing for your newborn session, including how much to clean (spoiler: not at all) and how to prepare siblings.
When should we schedule our newborn session?
Babies are often fairly sleepy in the first two weeks, which is great for photos! But if you have family visiting, or it just doesn't work with your schedule, anytime in the first 4-5 weeks should be fine. But that said, it's very dependent on your baby - I've photographed sleepy newborns as old as 7-8 weeks!
Most of my families inquire two to three months out from their due date, but I've had families book me after their baby was already here.
Are family photos included in your newborn photography sessions?
Yes!! Lifestyle newborn photography puts an emphasis on the entire family and how the new baby fits into that home. If you have older children, I typically start the session with photos of the entire family, followed by sibling photos, then photos of mom and dad with baby. By that point, the newborn is usually ready for a snack, and post-snack is the perfect time for some baby only photos! During downtime, I get photos of the nursery and/or details around your home that help tell your story.
Do you do any posing of the newborn during our session?
I bring myself, my camera, and a couple neutral colored blankets to sessions. Starting in 2023, I will also bring a couple neutral, stretchy wraps for swaddling, but whether or not I do so will be up to you. If you have a special item you would like included, I'm more than willing to do so, but I don't supply any props.
Posing newborns means the "head on chin" or "froggy" style of photo. Posing newborns is difficult, and requires hours of training to pose safely. I've decided to go in a different direction with my style, so I do not do any posing of newborns in my sessions. Note: this is different than posing of adults. While I won't overly pose you and your family for your session, I will do my best to give you gentle direction to make you look your best!
What should we wear?
Something comfortable! For mom, my suggestion is usually a neutral top, paired with comfy jeans or leggings. For dad/partner, neutral shirt and jeans. For siblings, jeans and neutrals, or a soft dress (honestly, you just had a baby, so whatever you can get them into is fine!).
For babies, simple is usually best. We can always add colors and patterns with bows, blankets and wraps. Solid colored onesies are always a classic, timeless look, and pair well with parent outfits. If you decide to you'd like a "diaper only" photo, pick up a diaper cover from Etsy or Amazon to avoid the saggy diaper look!
Avoid neons in both clothes and blankets/sheets, as they can create some odd color casts on newborn skin.
If you need help choosing outfits, I'm happy to help! I also have a blog post with more specific info on what to wear for your newborn session.
Can we include our pets?
Heck, yes! I love including pets in newborn photography sessions. I have a dog and two cats myself, so I'm not bothered by excited fur friends. If they're upset by my visit, you're also welcome to keep them in the backyard until it's their time to shine.
Even if they aren't ready to cooperate with their new human sibling, I'm happy to try and take photos of them by themselves!
Do you offer birth photography?
As much I would love to, due to the scheduling conflicts with having three kids still at home, I'm unable to do so at this time.
Do you offer maternity photography?
I do! You can head to my maternity session info page for a bit more info. I offer a discount for newborn sessions when booked with a newborn session.
Have more questions about newborn photography sessions?
Please get in touch! I'm happy to answer any and all questions about my newborn sessions.
Ready to book? Have questions?